Australia ICOMOS E-Mail News No. 361 -with Amendment to Item 5
For mail order transactions: Australia ICOMOS now accepts Visa and MasterCard

~~~~~~~~~~~~~~~~~~~~~~~~~~~~~~~~~~~~~~~~~~~~~~~~~~~~~~~~~~~~~~~~~~~~~~~~~
An information service provided by the Australia ICOMOS Secretariat
Friday 31 October 2008
~~~~~~~~~~~~~~~~~~~~~~~~~~~~~~~~~~~~~~~~~~~~~~~~~~~~~~~~~~~~~~~~~~~~~~~~~



1) SAVE THE DATES: Friday 21 November and Saturday 22 November 2008
2) REMINDER: South Australia ICOMOS Event - Wednesday 5 November, 5.30 pm
3) Fairbridge Lecture Series - The Fairbridge Chapel
4) Global Rock Art - International Congress of Rock Art, June/July 2009
5) The John Monash Medal for Engineering Heritage - Awarded to Australia ICOMOS members Margret and Carl Doring
6) UNESCO 2001 Convention for the Protection of the Underwater Cultural Heritage enters into force 2 January 2008
7) Department of the Environment, Water, Heritage and the Arts: Media Release -
Kakadu Fees in 2010

Situations Vacant...
8) Associate Lecturer/Lecturer - Archaeology/Cultural Heritage Management, Flinders University
9) Editor-in-Chief, Society for Applied Anthropology

~~~~~~~~~~~~~~~~~~~~~~~~~~~~~~~~~~~~~~~~~~~~~~~~~~~~~~~~~~~~~~~~~~~~~~~~~

1) SAVE THE DATES: Friday 21 November and Saturday 22 November 2008

A reminder to keep these dates free for the Australia ICOMOS AGM weekend and make your plans now to come to Melbourne!

Friday 21 November 2008
- The International Committee for the Conservation of Industrial Heritage (TICCIH) meeting from 11.00 to 1.00pm.

- Australian members of ICOMOS International Scientific Committees half day workshop from 2.30 to 5.30 pm.

Both events will be held at the same city venue (Heritage Victoria) and any interested people are welcome.

PLEASE NOTE FURTHER INFORMATION PERTAINING TO THE ISC HALF DAY WORKSHOP BELOW:

Meeting of Australian members of ICOMOS International Scientific Committees
21 November 2008
Venue: Level 4, Room 11, 8 Nicholson Street, Melbourne
Time: 2.30pm - 5.30 pm
The meeting includes those recently elected or whose applications are under consideration and other people interested in the work of the committees.
The meeting is expected to be an annual activity in the Australia ICOMOS calendar.
The Eger-Xi'an principles describe the ISCs as
'the vehicles through which ICOMOS brings together, develops and serves its worldwide membership according to fields of specialised interest. ICOMOS expects the ISCs to be at the heart of scientific inquiry and exchange in their domains and to share knowledge among them and foster a multi-disciplinary approach to heritage protection and management...'
The draft objectives of the meeting are to consider ways in which Australia ICOMOS, and the Australian members of ISCs, can foster:
- The work if the ISCs and the scientific council;
- The fields of specialised interest in Australia; and
- The sharing of knowledge and the multidisciplinary-approach to heritage protection and conservation
Suggestions for topics for discussion are invited from members of ISCs and others.
A DRAFT Agenda for discussions will be circulated soon.
The meeting will be attended by Kristal Buckley, a Vice President of ICOMOS; Peter Phillips, President of the Australian National Committee; two Presidents or secretariats of ISCs; and many Australian members of ISCs.
Members who have not responded, or not received the invitation (by inadvertent oversight) are asked to advise Meredith Walker heritagefutures@bigpond.com with a copy to Sue Jackson-Stepowski stepowsk@tpg.com.au.
Saturday 22 November 2008
Free ICOMOS events in Carlton for MEMBERS ONLY

- Tour of World Heritage listed Royal Exhibition Building conducted by the Museum of Victoria 12.30 to 1.30pm

- World Heritage Seminar from 2.00 to 4.00pm

- Australia ICOMOS Annual General Meeting at 4.30pm followed by drinks

And afterwards...

Dinner at Lincoln Hotel, Carlton, from 7.30pm

Three courses, $60 per head plus pay for own drinks

RSVP essential for all events to the Secretariat, email austicomos@deakin.edu.au or leave a phone message including name and contact number to (03) 9251 7131.
RSVP by COB Monday 10 November 2008

Please note: when RSVPing for the dinner, please advise of any dietary requirements and whether or not partners will be attending.

~~~~~~~~~~~~~~~~~~~~~~~~~~~~~~~~~~~~~~~~~~~~~~~~~~~~~~~~~~~~~~~~~~~~~~~~~

2) REMINDER: South Australia ICOMOS Event - Wednesday 5 November, 5.30 pm



Attention Architects, Heritage Consultants, Conservation Practitioners
South Australia ICOMOS Event Wednesday 5 November 5.30 pm
At the Institute of Architects, 100 Flinders St, Adelaide



A South Australian ICOMOS seminar, (supported by the Heritage Branch of the Department of Environment and Heritage and the Australia Institute of Architects), will discuss the preparation of the nomination of the Cornish Mining Heritage Sites at Burra and Moonta Mines for National Heritage Listing and for the World Heritage Tentative List.

The seminar will be in two parts. A key note talk will be presented by Professor Philip Payton, Professor of Cornish & Australian Studies and Director, Institute of Cornish Studies at the University of Exeter. Prof Payton is one of the key people behind the proposal for South Australia's sites to become part of a Trans National listing of Cornish Mining Heritage, involving Australia, Mexico and South Africa. The second part will focus on practical management issues of conservation. This follows the model of the successful ICOMOS World Heritage Day seminar held in April where discussion of practical conservation issues was of great interest to members. Presentations and discussion by practitioners will be included, focussing on case studies in the mining and building conservation arena.

There will be a charge of $15 for ICOMOS members ($25 for non-members), with generous drinks and nibbles provided. Any surplus funds will be donated to the Streetwise Asia fund for Heritage Conservation.

Please RSVP to Anthony Coupe (08) 8231 3131 by Friday 31 October to assist with catering numbers. Please also have correct money to pay at the door.

~~~~~~~~~~~~~~~~~~~~~~~~~~~~~~~~~~~~~~~~~~~~~~~~~~~~~~~~~~~~~~~~~~~~~~~~~

3) Fairbridge Lecture Series - The Fairbridge Chapel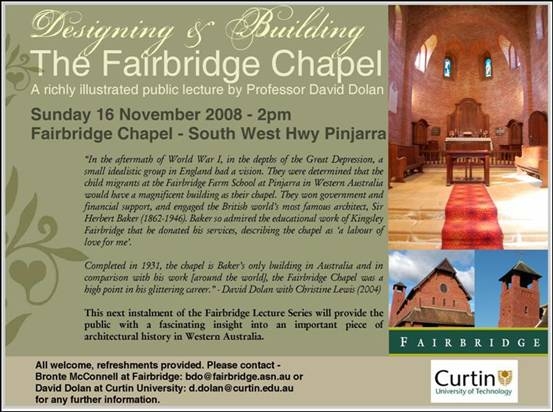 ~~~~~~~~~~~~~~~~~~~~~~~~~~~~~~~~~~~~~~~~~~~~~~~~~~~~~~~~~~~~~~~~~~~~~~~~~

4) Global Rock Art - International Congress of Rock Art, June/July 2009

Global Rock Art will take place from 29 June - 3 July 2009 at Serra da Capivara National Park, Sao Raimundo Nonato, Piaui, Brazil.

At Global Rock Art scientists, students and people interested in the research, conservation and promotion of rock manifestations will meet and present their papers and information from all continents thus showing that rock art is a worldwide cultural phenomenon.

Different methods of investigation, interpretation and new discoveries, scientific development and the dynamics of cultural creation and distribution can be related and compared at the meeting.

The congress will try to demonstrate that globalization is not a present-day occurrence, it started when man left his home in Africa and spread over all the continents. The congress is international and will show that Homo sapiens genetically carries a pattern of answers to problems created by the environment and by his Psyche. For this reason the congress is called Global RockArt.

For further information, visit http://www.globalrockart2009.ab-arterupestre.org.br/.

~~~~~~~~~~~~~~~~~~~~~~~~~~~~~~~~~~~~~~~~~~~~~~~~~~~~~~~~~~~~~~~~~~~~~~~~~

5) The John Monash Medal for Engineering Heritage - Awarded to Australia ICOMOS members Margret and Carl Doring

The award recognises an individual who has made, over a considerable period of time, an outstanding contribution to engineering heritage in Australia through one or more of the following:

- the raising of awareness of engineering heritage within the profession
- the promotion of engineering heritage within the community
- the recording and documentation of engineering heritage
- the conservation of engineering heritage
- such other contribution to engineering heritage as Engineering Heritage Australia may consider worthy of recognition.

The award takes the form of a bronze medal and a certificate, and is made annually.

The award is open to any individual and is not limited to engineers or members of
Engineers Australia. The first award was made in 2003.

Australia ICOMOS congratulates Margret and Carl Doring on being the recipients of this award for 2008. Margret has worked on projects such as the campaign to prevent the demolition of the Queen Victoria Building and to promote its restoration and re-use**, and the protection of the Great North Road from damage; Carl has performed in-depth heritage studies of sites including the Tooheys Malthouse, Randwick's Tramway Workshops and the Midland Railway Workshops.

**Amendment to text in bold

~~~~~~~~~~~~~~~~~~~~~~~~~~~~~~~~~~~~~~~~~~~~~~~~~~~~~~~~~~~~~~~~~~~~~~~~~

6) UNESCO 2001 Convention for the Protection of the Underwater Cultural Heritage enters into force 2 January 2008*[correction]

Twenty States have now ratified the Convention on the Protection of the Underwater Cultural Heritage, which therefore will enter into force on 2 January 2009, three months after the deposit of the 20th instrument of acceptance.

"This is a very important step in the history of the safeguarding of cultural heritage," declared Koichiro Matsuura, Director-General of UNESCO. "This represents an essential addition to UNESCO's standard-setting apparatus. From now on, it will be possible to offer legal protection to the historical memory that is in underwater cultural heritage, thus curtailing the growing illicit trade by looters."

The Convention, adopted in 2001 by UNESCO's General Conference, aims to ensure more effective safeguarding of submerged shipwrecks and ruins. The international treaty represents the international community's response to the increased looting and destruction of underwater cultural heritage, which is becoming ever more accessible to treasure hunters.

The 2001 convention is based on four main principles:

- the obligation to preserve underwater cultural heritage;
- in situ preservation, i.e. under water, as a preferred option;
- no commercial exploitation of this heritage; and
- cooperation among States to protect this precious legacy, to promote training in underwater archaeology, and to raise public awareness of the importance of sunken cultural property.

The Convention does not arbitrate ownership claims nor prejudice the jurisdiction or sovereignty of States. The Convention's Annex establishes rules for activities directed at underwater sites; these rules are widely recognized by archaeologists.

The Director-General of UNESCO will convene a meeting of States Parties to the Convention within one year of its entry into force and thereafter at least once every two years. The meeting of States Parties will establish its functions and responsibilities.

It may in addition establish a Scientific and Technical Advisory Body composed of experts who will make recommendations on scientific and technical issues.

~~~~~~~~~~~~~~~~~~~~~~~~~~~~~~~~~~~~~~~~~~~~~~~~~~~~~~~~~~~~~~~~~~~~~~~~~

7) Department of the Environment, Water, Heritage and the Arts: Media Release -
Kakadu Fees in 2010

Environment Minister Peter Garrett today said he had accepted the Director of National Parks recommendation to reinstate park use fees at Kakadu National Park from 1 April 2010, with a full exemption for Territorians.

Mr Garrett said the Howard Government had created a black hole in Kakadu's budget with its ill-considered decision on the eve of the 2004 election to abolish visitor fees.

"Kakadu is one of the world's spectacular natural environments, encompassing nearly 20,000 square kilometres and offering visitors a unique experience of our rich Australian landscape, wildlife and Indigenous culture.

"The previous Government's decision to abolish park fees created a $4 million black hole that taxpayers then had to fill by supplementing the Kakadu budget so that park operations did not falter and the park's traditional owners were not disadvantaged.

"It is both irresponsible and unsustainable in the long term to expect taxpayers to continue to bear the full cost of managing Australia's largest national park and one of our great World Heritage Areas.

"I have therefore accepted the recommendation of the Director that visitors be asked to make a contribution to the maintenance of the tourism infrastructure and services they enjoy. Recovering some of these costs will help maintain Kakadu's spectacular environment."

Mr Garrett said charging entry fees for national parks with high visitation and associated high running costs is common practice around Australia and internationally.

The fee will be $25 for each visitor 16 years and over, and cover a visit of up to 14 days. Visitors who want to stay longer will be able to do so at no extra charge. This is expected to generate $4.5 million in net annual revenue, based on visitor numbers in 2007.

Mr Garrett said the Government did not believe the fee would discourage interstate or international visitors who make up more than 85 per cent of all visitors.

"However, by exempting Territorians from the fee we expect they will continue to be great champions for Kakadu. This park is in their backyard and we want them to come again and again - and to bring friends and visiting relatives.

"This is a view that has been strongly put to me by Senator Crossin, Member for Solomon, Damien Hale, and Member for Lingiari, Warren Snowdon, who have strongly advocated the interests of Territorians as the Government has considered future funding options for Kakadu."

Mr Garrett said the Government had made the announcement early to give the tourism industry plenty of time to plan pricing and marketing for the 2010 tourism season.

Under the park lease, 38.8 per cent of revenue will be passed on to the Aboriginal Land Trusts for traditional owners.

~~~~~~~~~~~~~~~~~~~~~~~~~~~~~~~~~~~~~~~~~~~~~~~~~~~~~~~~~~~~~~~~~~~~~~~~~

8) Associate Lecturer/Lecturer - Archaeology/Cultural Heritage Management, Flinders University

Position Title: Associate Lecturer /Lecturer - Archaeology/Cultural Heritage Management
Department: Department of Archaeology, Flinders University of South Australia
Vacancy Reference No: 8268
Classification: Academic Level A/B
Salary Range: Level A: $53,909 to $65,658 pa full-time
Level B: $69,118 to $82,075 pa full-time
(With effect from 3 January 2009)
Employment Type: Continuing, full-time
Closing date: Monday 10 November 2008

Full details can be found online by following the link at
http://www.flinders.edu.au/employment/vacancies/academic.cfm

The Department of Archaeology at Flinders University is looking to appoint a Lecturer in Archaeology/CHM into a continuing position at either Level A (without PhD; Associate Lecturer) or Level B (with PhD; Lecturer). The Associate Lecturer/Lecturer in Archaeology/Cultural Heritage Management (CHM) will be responsible for contributing to, coordinating and teaching topics in the undergraduate, Honours and Graduate Programs in Archaeology and CHM, by taking primary responsibility for teaching topics in heritage management, Indigenous heritage and undertaking relevant research activity. They will be required to maintain partnerships with existing industry and government partners, as well as to develop new linkages.

SELECTION CRITERIA

Essential criteria (Level A)
- Substantial demonstrated progress towards a PhD or equivalent higher degree in archaeology, cultural heritage or a closely relate discipline.
- Capacity to teach topics in archaeology, cultural heritage management, and professional studies.

Essential criteria (Level B)
- A PhD or equivalent higher degree in archaeology, cultural heritage or a closely relate discipline.
- Capacity to undertake a leadership role in relation to the graduate programs, as demonstrated by a high level of administrative capability.
- Capacity to design, develop and deliver flexible and high quality academic programmes.
- Capacity to undertake research activity.

Essential criteria (Both Levels A and B)
- Experience working in Australian-based archaeology, and/or cultural heritage protection legislation and/or policy development, and/or contemporary consultancy practice.
- Established links with outside organizations of benefit to the graduate programmes, or to the University and a demonstrated capacity to expand on and promote the Department's professional and industry partnerships and networks.
- Good organisational and communication skills.
- A demonstrated ability to work with other academic and general staff as a member of a teaching and administrative team.

Desirable criteria
- A demonstrated commitment to, and performance in, research in archaeology.
- A demonstrated record of publications in archaeology or cultural heritage management.
- Demonstrated successful experience in teaching topics in archaeology, cultural heritage management, and professional studies.

For further information about the position please contact:

Dr Heather Burke
Head, Department of Archaeology
telephone (08) 8201 3795
fax (08) 8201 2784
email heather.burke@flinders.edu.au

Candidates are strongly encouraged to discuss the position with the contact person before sending in a written application.

~~~~~~~~~~~~~~~~~~~~~~~~~~~~~~~~~~~~~~~~~~~~~~~~~~~~~~~~~~~~~~~~~~~~~~~~~

9) Editor-in-Chief, Society for Applied Anthropology

The Society for Applied Anthropology announces a search for a new Editor-in-Chief of Human Organization, a journal that has been recognized as a leading scientific publication in applied anthropology since its founding in 1941. It is published four times annually and is directed toward interdisciplinary as well as anthropological audiences.

The term of the current co-Editor team, David Griffith and Jeff Johnson, ends in December, 2010. The successor's term will begin on January 1, 2011. The search is being initiated now to provide for a smooth transition.

The initial term of service for the new Editor-in-Chief will be three years. The term is renewable for one additional three-year period. The Editor-in-Chief of Human Organization also serves as a member of the Executive Committee of the Society for Applied Anthropology.

In addition to making at least a three-year commitment to the journal and to serving on the SfAA Executive Committee, candidates for the position should be able to secure release time (where possible) and other institutional support to supplement SfAA resources, constitute an Editorial Board, promote and cultivate the journal, and offer editorial expertise and direction. Additional criteria include:

1. Experience as a journal editor, associate or guest editor, and/or editorial board experience
2. A strong record of publication in applied social sciences
3. A history of involvement in applied social science research/practice

Persons interested in applying for the position should provide the Publications Committee early on with a letter of intent, which can help initiate discussion and provide potential applicants with necessary information.

The actual application should contain the following:

1. A letter of interest that indicates the candidate's experience, ideas, and vision for the journal, and any support (such as release time, space, equipment and editorial assistance) that will be available from the host institution
2. A letter of support from the institution
3. A copy of the candidate's vita or resume
4. A proposed budget

Additional material may be requested by the Publications Committee at a later date.

The application deadline is 15 September 2009. Applications should be sent to:

Society for Applied Anthropology
HO Editor Search
PO Box 2436
Oklahoma City
OK 73101-2436
USA

Questions concerning the position can be directed to Nancy Schoenberg, Publications Committee Chair (nesch@uky.edu ). We especially encourage interested individuals to contact current editors David Griffith (GRIFFITHD@ecu.edu) and Jeff Johnson (JOHNSONJE@ecu.edu).

~~~~~~~~~~~~~~~~~~~~~~~~~~~~~~~~~~~~~~~~~~~~~~~~~~~~~~~~~~~~~~~~~~~~~~~~~
If you would like to suggest an event, story, course etc for the Australia ICOMOS e-mail news or submit an article, or you wish to be removed from the distribution list, send an e-mail to the Australia ICOMOS Secretariat at: austicomos@deakin.edu.au.

Please note that as the office is not staffed full-time it may take a few days to deal with your request
~~~~~~~~~~~~~~~~~~~~~~~~~~~~~~~~~~~~~~~~~~~~~~~~~~~~~~~~~~~~~~~~~~~~~~~~~
Disclaimer: Opinions expressed in the Australia ICOMOS Email News are not necessarily those of Australia ICOMOS Inc. or its Executive Committee. The text of Australia ICOMOS Email news is drawn from various sources including organizations other than Australia ICOMOS Inc. The Australia ICOMOS Email news serves solely as an information source and aims to present a wide range of opinions which may be of interest to readers. Articles submitted for inclusion may be edited.
~~~~~~~~~~~~~~~~~~~~~~~~~~~~~~~~~~~~~~~~~~~~~~~~~~~~~~~~~~~~~~~~~~~~~~~~~

Australia ICOMOS Secretariat
Georgia Meros, Secretariat Officer
Cultural Heritage Centre for Asia and the Pacific
Deakin University
221 Burwood Highway
Burwood Victoria 3125
Telephone: (03) 9251 7131
Facsimile: (03) 9251 7158
Email: austicomos@deakin.edu.au
http://www.icomos.org/australia

~~~~~~~~~~~~~~~~~~~~~~~~~~~~~~~~~~~~~~~~~~~~~~~~~~~~~~~~~~~~~~~~~~~~~~~~~~
This email message is intended only for the addressee(s) and contains information which may be confidential and/or copyright. If you are not the intended recipient please do not read, save, forward, disclose, or copy the contents of this email. If this email has been sent to you in error, please notify the sender by reply email and delete this email and any copies or links to this email completely and immediately from your system. No representation is made that this email is free of viruses. Virus scanning is recommended and is the responsibility of the recipient.
~~~~~~~~~~~~~~~~~~~~~~~~~~~~~~~~~~~~~~~~~~~~~~~~~~~~~~~~~~~~~~~~~~~~~~~~~~